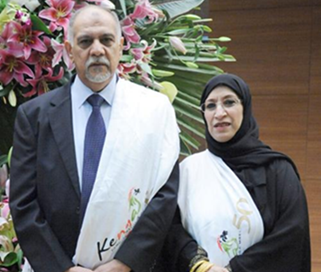 The Board of Directors of Donsoco Holdings appointed on 28 February 2019 Ambassador Dr. Rashid Ali, a very valued, skilled, serious-minded and result-oriented veteran officer of former Presidents H.E. Daniel Arap Moi and H.E. Mwai Kibaki governments and present President H.E. Uhuru Muigai Kenyatta administration, to serve as member of Donsoco Ecosystems Group Leading Management Team, member of its Finance and Investment Committee and Interim President of the Holding's renewable energy and potable water utilities company, Donsoco Energy® Kenya Limited.
Ambassador Dr. Rashid Ali has over forty (40) years of effective leadership and successful management experience in public administration and private industries.  He served his country with distinction in many high-level government positions contributing to Kenya's diplomatic mission, government ministries, and public-private industries of Kenya with outstanding results.  In selecting some of his many successful accomplishments, Ambassador Dr. Rashid Ali (1) spearheaded and optimized staff production of Kenya International Diplomatic Missions in Iran, Abu Dhabi, and Sweden, including Kenya Government Inspectorate Division of Ministry of Foreign Affairs and the Investigation and Inspectorate Division of the Customs Services Department of the Kenya Revenue Authority (previously known as Customs and Excise Department), (2) helped in the boosting of international trade and investments benefiting local Kenyan enterprises and the county's export commerce, (3) provided socioeconomic developments through economic diplomacy aimed at meeting Kenya Vision 2030, and (4) contributed in key decision-making policy at the executive board level as Member Director of Kenya Revenue Authority Board of Directors and Director of Kenya Meat Commission to name a few, given previous appointments by former presidents and recent reappointments by H.E. President Uhuru Muigai Kenyatta to continue his resilient and unmatched serves in the aforesaid executive boards.
Ambassador Dr. Rashid Ali continues to produce remarkable accomplishments benefiting state owned enterprises and private industries as well.  He is a seasoned-senior Director Member of Kenya National Chamber of Commerce and Industry (KNCCI) Board of Directors and Member of the Board of Lions Clubs International.  Ambassador Dr. Rashid Ali public service and private industry achievements are an attribution to his effective leadership and management strategies used in performance optimization during his tenures as (1) Kenya's Ambassador to the Islamic Republic of Iran; (2) Chairman of Al-Fawzein Group of Companies; (2) Deputy Secretary of Kenya Ministry of Tourism, Trade and Industry; (3) Deputy Secretary of Kenya Department of External Resources Treasury; (4) Kenya's Deputy Ambassador to Abu Dhabi, United Arab Emirates; (5) Kenya's Council, Head of Chancery and Deputy Ambassador to Sweden; (6) Under Secretary of Kenya Ministry of Foreign Affairs and International Cooperation; (7) Under Secretary of Kenya Ministry of Environment and Natural Resources; (8) Senior Assistant Secretary of Kenya Ministry of Lands and Settlement; (9) Principal Investigation Officer and Head of Inspectorate Division of Kenya Customs Services Department of the Revenue Authority.
Ambassador Dr. Rashid Ali has received many government and private industry commendable awards. Tributes for his honorable-exemplary services were made by Former President Daniel Arap Moi with the Head of State Commendation and the Distinguished Service Medal.  President Moi successor, President Mwai Kibaki, commended Ambassador Dr. Rashid Ali services with the Order of the Grand Warrior and the Moran of Burning Spear.  In commonality with Ambassador Dr. Rashid Ali superb public service, his spouse, Mrs. Nasim Rashid Ali, earned the Head of State Commendation conferred by H.E.President Uhuru Muigai Kenyatta, for rendering extremely meritorious service to the community during Ambassador Dr. Rashid Ali term of duty in Tehran.  Other private industry honors received by Ambassador Dr. Rashid Ali consist of four consecutive Lions International President's Certificate of Appreciation awards acknowledged annually, an Honorary Game Warden and a Tourism Award.  In addition to, Ambassador Dr. Rashid Ali received an Honorary Fellowship from the world-renowned Association of Certified Commercial Diplomats, as sanctioned by the United Kingdom Diplomats Regulatory Authority.  He is recognized as the only Honorary Fellow of the entire East and Central Africa to receive such distinguised designation.
Ambassador Dr. Rashid Ali is likewise a fellow member of the United Kingdom Institute of Directors, the British Institute of Management, the Institute of Professional Managers and Administrators, and Kenya Institute of Management. Ambassador Dr. Rashid Ali is involved in social civil serves in the capacity of Patron, Board Member, Trustee and Secretary for several professional and clergy organizations' boards such as Muslim Education and Welfare Association, Mombasa District Health Management Board, The Baluchi Mosque, Mombasa Multipurpose Centre Board of Directors, Beach Operators Relocation Trust, and The National Hajj Committee of Mombasa.
His education comprises a Doctor of Philosophy (PhD) in Public Administration, Master of Science in Commerce graduate degree, Bachelor of Commerce undergraduate degree and Diplomas in Public Administration, Personnel Management, Public Relations and Marketing.
"Donsoco Holdings Ecosystems Corporate Group leading management team is thrilled to have Ambassador Dr. Rashid Ali lead the management of the Holding's renewable energy and potable water utilities subsidiary, DONSOCO ENERGY® Kenya Limited, as its Interim President working in consort with the Executive Vice President of DONSOCO ENERGY® Kenya, Mr. Alhad Mohamed Muhiddin, effective immediately", the Holding Chairman, Victorino Concepción, said. In assuming the leadership of DONSOCO ENERGY® Kenya, Chairman Concepción indicated that "DONSOCO ENERGY® management, led through Ambassador Dr. Rashid Ali, will direct the implementation and advances of DONSOCO FARMS® ecological agriculture strategic plan in Kenya for a provisional period, in view of the fact that DONSOCO FARMS® will provide healthy food production by combining the best aspects of its organic aquaponics food growing systems incorporated with DONSOCO ENERGY® renewable power sources and water purification technologies".
"The Holding's Leading Team will work closely with Ambassador Dr. Rashid Ali and Mr. Alhad Mohamed Muhiddin, who is a Member of the Holding's Water, Energy, and Food Nexus Committee, to help capitalize in the ongoing developments and array of opportunities established within the framework of the new energy regulation laws signed by H.E. President Uhuru Muigai Kenyatta on 12 March 2019, through investments in Kenya's human resources and renewable technologies for providing clean water, energy, and food security to Kenya at fixed anti-inflationary, affordable, and cost-effective prices with zero emissions footprint of carbon dioxide (CO2) to the environment", explained Chairman Concepción."
"The new energy regulation laws are in line with DONSOCO SHIMONI ECOLOGIC PROJECT of Kiwale County Kenya, which supports economic growth and employment in a clean, resilient, and sustainable manner with its initiatives to efficiently use Kenya's resources, reduce pollution, and mitigate environmental damage, while providing a sound solution to Kenya's energy-water-food shortages with substantive benefits to the low-income segments of the population", Chairman Concepción elaborated.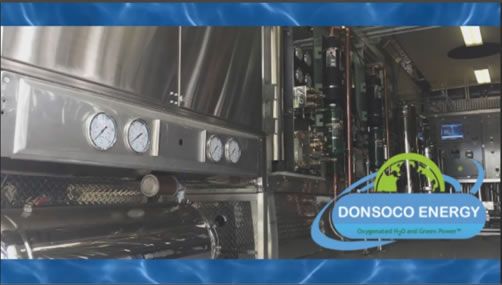 To accomplish the provisions of its water, energy, and food security blueprint in progressive developmental phases, under the norms of a balanced and protected ecosystem that maximizes sociocultural and economic benefits to Kenya, "the Holding plans to use its innovative renewable assets encompassing DONSOCO ENERGY® Seawater-Desalination to Power (SDP) and Waste-Water to Power (WWP) renewable energy and potable water generation plants.  Based on Kenya's market-driven expanding economy, these high proficiency, advanced, and environmentally friendly equipment are programmed for manufacturing, deployment and installation in DONSOCO SHIMONI ECOLOGIC PROJECT, pursuant to having executed power and water purchase agreements (PPAs and WPAs), together with the implementation and construction of DONSOCO FARMS® organic-aquaponics food growing, packaging, and distributing facilities and systems,once exit-contracts for our made in Kenya certified-organic products are in place", described Chairman Concepción.  "Tanzania, Uganda and other EAC participant member countries of the African Continental Free Trade Agreement (AFCFTA) are on the Holding's water, energy, and food security project development agenda", informed Chairman Concepción.
According to Chairman Concepción, Ambassador Dr. Rashid Ali will serve as President of DONSOCO ENERGY® Kenya, until the comprehensive search for a new president is complete and filled by a well-respected, talented, and top-level Energy Executive with an exemplary track record of Kenya and EAC countries water and power services industry.  The succession of Ambassador Dr. Rashid Ali appointment comes as a result of Dr. Floris Brand decision to withdraw as President of DONSOCO ENERGY® Kenya citing his need to attend to family and personal private matters, concluded Chairman Concepción.